Who doesn't enjoy a good party? Now that summer is here, it's time to take the fun outside – and no, we're not talking about the overdone, overplayed, and boring hotdogs-and-burgers-get-togethers, we're talking artsy, crafty, luxurious set-ups that will leave your guests wanting for more. If you don't have a spacious garden or yard, make use of your deck, and if you don't have a deck? Well, then there's nowhere else to go but up! To the rooftop, it is!
Whether your outdoor space is teeny-tiny, extravagant, or somewhere in between the two, there is no excuse for you to miss making the most out of the blanketing warmth of the sun and the serene blue skies. So, take your mind off the grill box and let's explore these creative summer outdoor party ideas that'll be perfect for your kid's birthday, your friend's baby shower, or outdoor dinner with a handful of your friends.
Prep Some Walking Tacos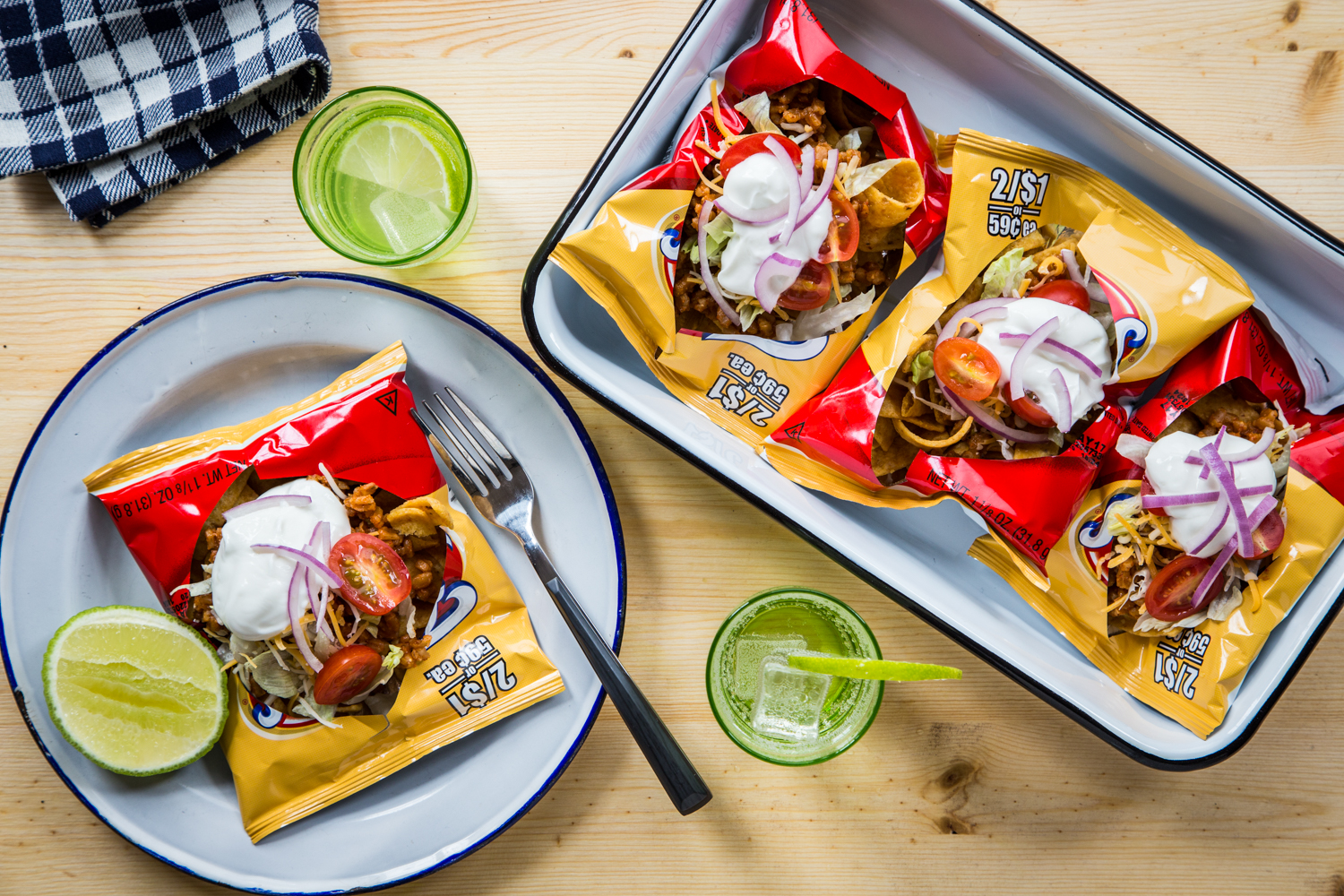 https://jellytoastblog.com/wp-content/uploads/2016/05/Meatless-Walking-Tacos-6-of-7.jpg
Whoever invented the 'Walking Taco' is a genius. It's the second-best invention after bacon! These portable taco bags come in lunch-sized packs of Fritos or Doritos and are perfect for on-the-go dinners or even game night supper. To make these you'll need:
1-pound ground beef

1 envelope reduced-sodium chili seasoning mix

1/4 teaspoon pepper

1 can (10 ounces) diced tomatoes and green chilies

1 can (15 ounces) Ranch Style beans (pinto beans in seasoned tomato sauce)

5 packages (1 ounce each) corn chips

Toppings: shredded cheddar cheese, sour cream

and

sliced green onions
Cook the beef in medium heat for about 8 minutes or until the meat is no longer pinkish in color. Be sure to break the meat into crumbles and drain. Stir in the chili, pepper, tomatoes, and beans, simmer for about 25 minutes and add sauce on top of chips inside the bag.
Set-Up A Mimosa Bar
https://i.pinimg.com/564x/ba/e1/bd/bae1bd94e49fe9359bab0856f28201d7.jpg
Add fun to the party with a little bit of bubbly. A mimosa bar is the perfect way to turn your guests into mixologists Write the instructions on a vintage-style chalkboard and lay out the ingredients. A little sweeter? A little stronger? Let them play with it!
Create a Cozy Deck Area
Transform your deck area into a cabana with furniture and upholstery that is resistant to heat, rain, and water so that it will require less maintenance and cleaning time for you. This 5-piece Brook Deep Seating Set boasts of neutral colors and an elegant design that instantly adds beauty to your space while its wooded resin material makes it resistant to water, making it a perfect outdoor piece.
Have a Fancy Picnic
http://wherethegreengrassgrowsdesigns.com/wp-content/uploads/2017/09/Whitney-0019.jpg
Whoever said picnics can't be glamorous never had a fancy picnic party. This Teddy Bear-inspired picnic party from Where the Green Grass Grows Designs is such a charming and dainty idea of bringing the party to the ground with colorful throw pillows for chairs and recycled crates covered in a crisp linen sheet brings out the rustic and laid-back motif of the whole event – very summery, don't you agree?
Hire a Cotton Candy Cart
https://www.pinterest.ph/pin/73957618855897286/
What's a party without cotton candy? Instead of hiring caterers to set-up an expensive dessert buffet table, why not hire a cotton candy cart? You gotta admit, this idea doesn't just come cheap, it's also unique!
Serve Pizza as Entrée
https://seedaf.com/food/wp-content/uploads/2018/04/pizza1.jpg
We promised no burgers and hotdog grilling, right? But who has time for heavy-duty cooking when you're so busy planning a party? The Stepford Wife would just call the nearest pizzeria, heat in the microwave, transfer it onto her best-kept china, garnish with basil, and voila, dinner is served! Or better yet, have a Make-Your-Own-Pizza to make your soiree more fun!