Mr. Sun is back and shining brighter than his usual blaze, and, although it can get pretty hot during these months, summer is the perfect time of the year to head outdoors and have fun with the whole family to help take your mind off the heat. Here's a list of summer activities you and your kids will definitely love!
Go Backyard Glamping
Up the classic backyard camping a notch by combining it with modern luxury. Glamping is one way for you and your kids to enjoy the great outdoors without having to scrimp on comfort. Simply set up your tent, add some beautiful lighting (we recommend LED candles or fairy lights to set the right ambiance), your favorite plush throw pillows, your drink of choice, and of course, an all seasons 13.5 luxury Hungarian duvet, and you're good to go!
https://awol.junkee.com/wp-content/uploads/2015/05/StJeromesHotel_3909-680x453.jpg
Create a Sunken Trampoline
Burying a trampoline to the ground is slowly becoming a fad nowadays. It's a practical way for you to add pizzazz to your backyard without distracting the view from your garden. An in-ground trampoline also lessens the possibility of accidents caused by falling onto the ground.
http://into-gardens.com/wp-content/uploads/2013/03/1.dawn_isaac-182-1024x768.jpg
Host an Outdoor Movie Night
There is something about watching movies on a big white canvass outdoors that makes the whole thing romantic and exciting. Air mattresses and throw pillows are two great combinations to make sure everyone gets seated comfortably. My Frugal Adventures shows you just how you can stream movies while using your phone as a projector and a DIY screen canvass.
https://cdn.morningchores.com/wp-content/uploads/2017/11/by-air-matresses.jpg
Smash Some Water Balloon Piñatas
Water balloon piñatas are definitely a fun and creative way to enjoy the summer while beating the heat. Simply fill a balloon with water and hang them onto a piñata bar or string or even a monkey bar!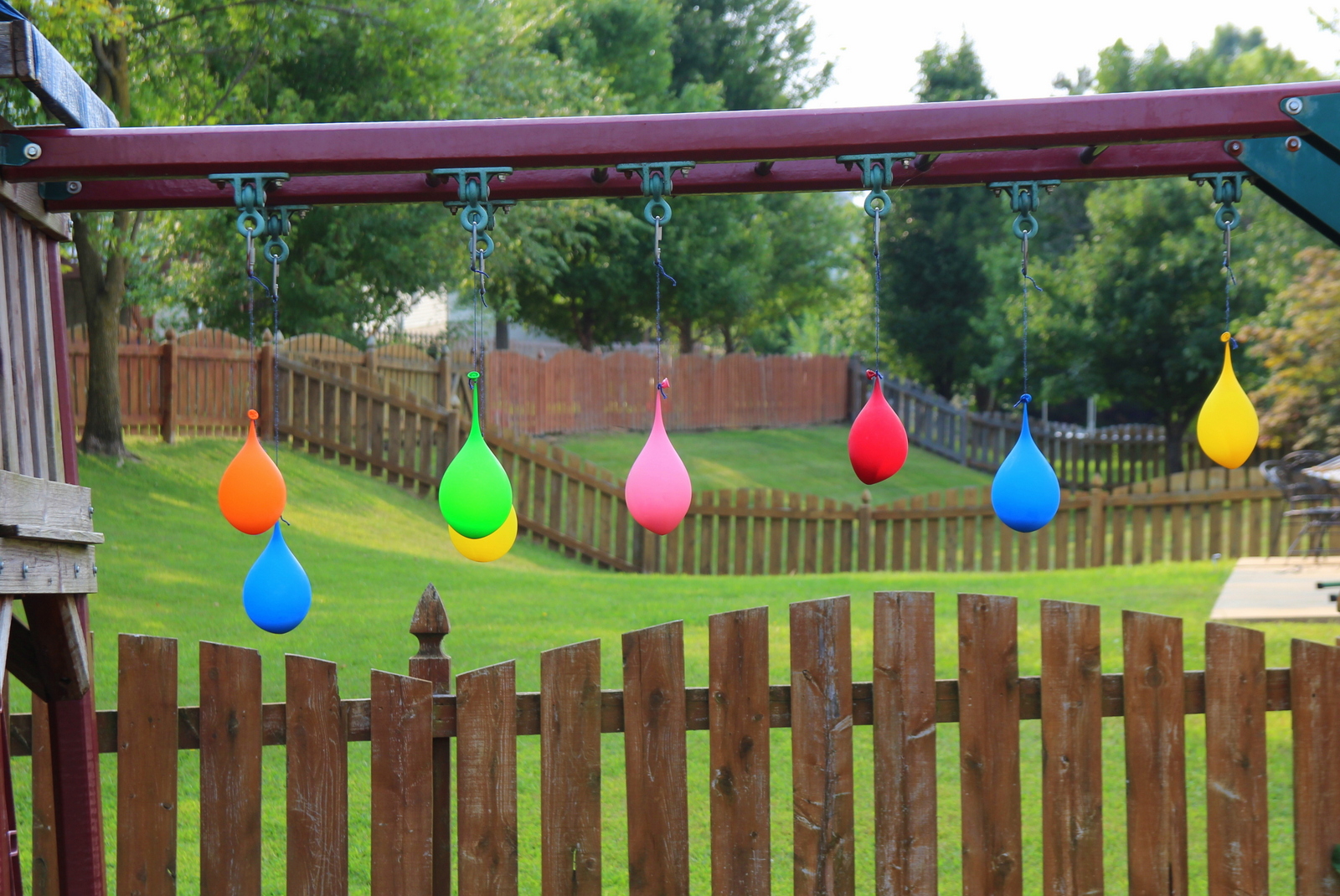 http://youngtoodles.com/wp-content/uploads/2015/09/IMG_4335.jpg
Dine with Friends Al Fresco Style
Who wouldn't love dining al fresco over the summer? With the warm summer night embracing you as you chill with family and friends over cocktails and steak. This beautiful Roosevelt Dining Set from Sunjoy is the perfect patio staple for the season. Get yours here.