The arctic-like cold and the gloom of winter can sometimes take its toll on us, and while we look forward to the warmth of spring and summer, the good news is that you don't really have to wait for months on end to bring vibrancy, coziness, and color back into your home or personal space. Here's how you can take spring inside while winter lingers outside.
Modify Your Home's Upholstery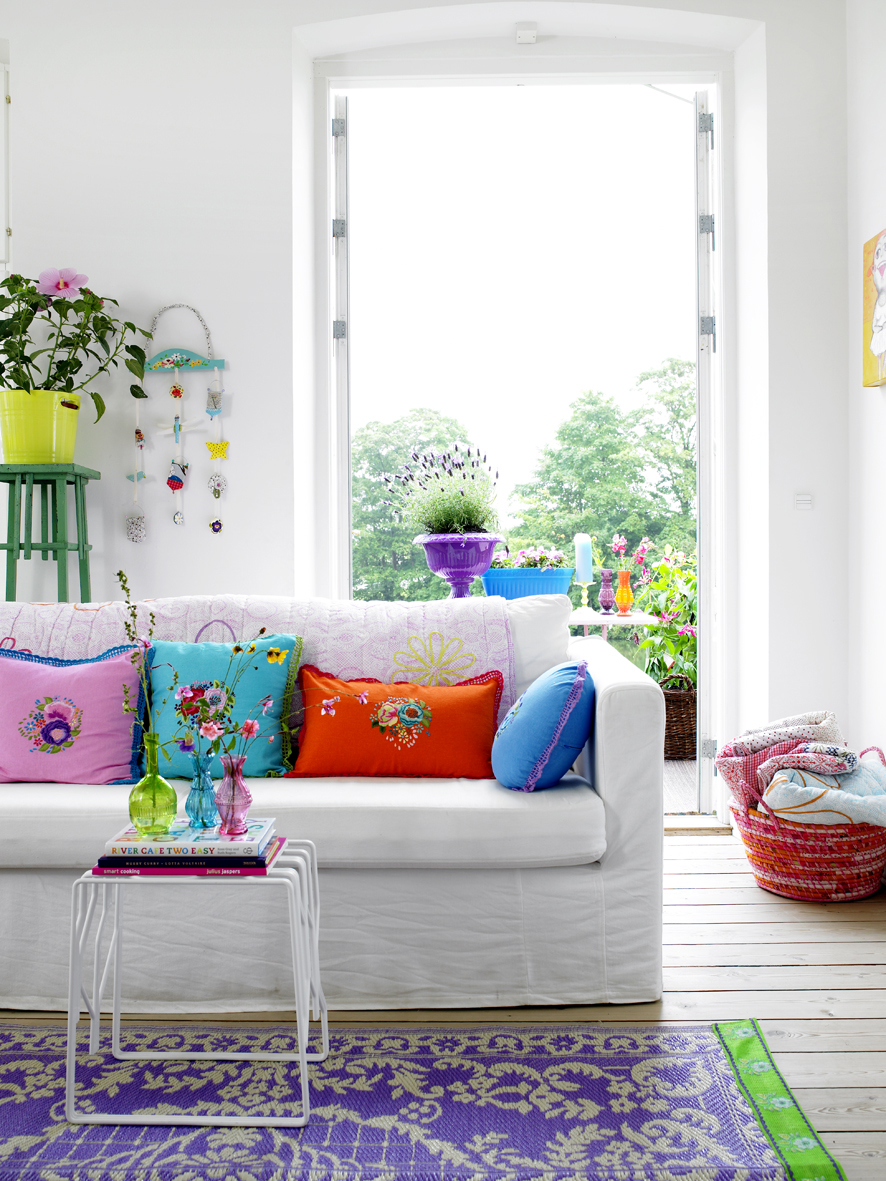 Photo Credits: https://goo.gl/3qJJfnes-inside/
One of the first things to do when you're trying to mimic spring indoors is to let go of your heavy wintery furnishings such as that monochromatic-colored rug, your gray-shaded duvet, and dull-hued sofa covers and trade them in for something more brighter and perkier fabrics. Fun Fact: The simple deed of swapping that dull-colored drug for a multi-colored or brightly-shaded one instantly creates a spring transformation to your home, so, replace that one-colored throw pillow for a livelier one, redesign an ottoman with more playful patterns, or purchase one piece of furniture that pops up from inside a room, a magenta-colored chair, for example, will deliciously stand out when placed inside a area that's occupied by neutrally-toned furniture.
Accentuate with Flowers
Photo Credits: http://www.xeeok.com/theme_detail_6646.html
Colorful flower pieces are always a spring staple decorative piece. While flowers may not be springing up on your backyard just yet, you can always buy a bunch of them at your local grocery store, or, you can always opt for artificial blooms from the department store, on the bright side, they're so much more low-maintenance.
Create an Indoor Patch
Photo Credits: https://goo.gl/VVxLXy
The icy grounds during the winter will naturally limit you from your planting rendezvous, however, that doesn't mean you can't create a garden indoors! Having your own green patch indoors will allow you to have easy access to fresh ingredients and will also add vibrant colors to your room!
Play It with Smell
Photo Credits: https://goo.gl/bj4T6m
Your olfactory senses are very powerful. If you really want to up the notch on your Spring makeover, you're going to have to play it with smell as well. You can use floral deodorizers to take away that musty winter smell that lingers, or, you can also opt for scented candles and potpourri. If you decide to have scented candles, make sure you choose colors that are reminiscent of Springs and blossoms to help accentuate your theme.
What are your favorite ways to reinvent your home into a cozy Spring-like haven amidst the chilly winter? The perfect way not to let the cold bother you is to feel happiness and warmth from within as well. We hope your winter is snug and toasty from within your home!